Pegging Escorts London & Strap-On Specialists A Beginners Guide
11/15/2015
Premier Models UK Blog
Whether it's your first time, or your fiftieth, our pegging escorts are experts that know how to break you in slowly, or plunge right in at the deep end. Girls that love to dominate their man, they get off on making you theirs, entering you and hitting that sweet spot! New to the whole thing? Let's break it down for you!
Pegging Escorts
What is Pegging?
Pegging is, "a sexual practice in which a woman performs anal sex on a man by penetrating the man's anus with a strap-on dildo."
What's The Attraction?
Whilst penetrative sex in women can stimulate the G-spot, pegging for men will stimulate their prostate gland producing a similar level of orgasm to that experienced by a woman. A common sexual fetish, it's also a way in which a man can relinquish the traditional masculine control of the sex act, a practice commonly associated with BDSM services.
Will It Hurt?
The simple answer is yes and no. If you are completely new to the practise then it can be a little bit painful the first time, though your pegging escort will make sure to be as gentle as possible. Of course, part of the pleasure is in the pain, and you will find that the slight discomfort will transform into feeling good.
How Do I Book An Escort for Pegging?
In the same way that you would book any of our other escorts - simply get on the phone and tell us when you want to make the booking and where you would like to make it - whether it's an in-call or an out-call. Of course you will need to tell us over the phone that you are interested in a woman that can perform pegging with a strap-on, as we will need to make sure that she comes prepared for you!
What Do I Need To Do To Prepare?
As with any booking we urge you to make sure you have showered before the date, or do so upon arrival. Using a douche will ensure that there will be no messy or embarrassing mishaps. Shaving is optional, though not recommended if you are new to it as it can cause a lot of discomfort!
Our Pegging Escorts
So without any further ado, let us introduce a few of the saucy little senoritas who love to use their strap-ons! These beautiful young women delight in playing with their toys and making their men their sissys.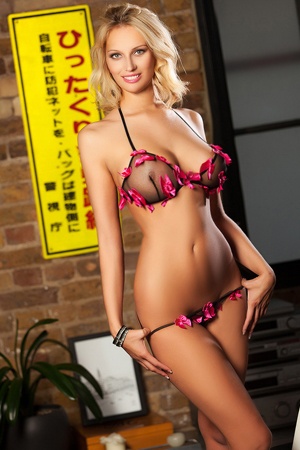 Quite simply one of the most gorgeous women we have ever had at Premier Models UK, this hot piece of ass is from Croatia and has a figure that will have you chomping at the bit!
Whilst you may think that this stunning young lady wouldn't be a nasty pegging escort, you couldn't be more wrong!
She loves using her strap on to dominate her clients and loves nothing more than making a man moan in agony and delight as she really goes to town on him!
Just imagine this effeminate, tall, leggy blonde stood over you, that glint in her eyes as she sports her big strap on, readying it for you!
One simply not to be missed!
This diminuitive young escort stands at over 5'5'', with powerful legs that she'll have you worshipping, and feet that she craves you to kiss and lick and beg to be close to.
She specialises with using a strap on, and provides a true BDSM service that many others will try to imitate. Larissa has her own private apartment which she invites you to come along to, and at which she has a whole wealth of toys, restraints and so much more that she can play with!
Eloisa provides a whole lot of roleplay services too, she revels in playing dress up, using naughty outfits, wearing furs, PVC, leather or whatever else. Her knowledge and desire for kink knows no bounds and you will find very few strap on London escorts that can provide a finer service!
For in-calls in her private domination dungeon in South Kensington, please make sure you book in advance!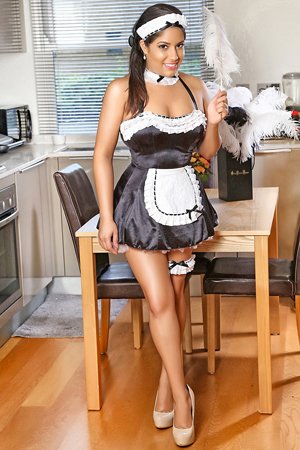 Not only is this sexy Colombian a submissive escort that loves to be dominated by her clients, she goes so as an anal escort that loves it in the back passage!
You might think, 'what's she doing on this list, then?...'
Well, as part of being a true submissive she wants to do whatever she can to please you and will do whatever it is you ask of her! If you're looking for a woman that is versatile with the strap-on, a girl that you can be adventurous with, as well as one that can peg you, then Reanata must not be overlooked!
A few hours with this extremely kinky young lady and you will have your mind (and everything else) well and truly blown! She's filthy, filthy fun and a pegging escort that can provide so, so much more.
If none of these girls take your fancy, but you still want to book a strap on adventure with one of our pegging escorts, then please just get in touch and we will direct you in the right direction!
Call on 07500 200 600 or email us at info@premiermodelsuk.com