School Girl Uniform Escorts
2/13/2015
Premier Models UK Blog
There's something incredibly sexy about a girl in a tight white shirt, knee high socks and a plaid skirt hiked up over her peaking thong. It will drive any man crazy with desire. A nubile young teen practically begging for it, a twinkle in her eyes...
One of the most common roleplay fantasies our clients tell us about, the school girl thing is something that a lot of our gorgeous London escorts are more than happy to oblige with - they love the kinkiness of dressing up as a teen girl - tight school girl uniform and hair in bunches - just for you!
So who of our sexy ladies likes to dress up as a school girl?
A surprising amount of our escorts have a range of outfits that they love to dress up in; what can we say? Living out roleplay fantasies is one of their favourite things to do. Bringing you imagination to real life, their bespoke service is tailored to whatever your dreams are. So we before we get into the fantasy, take a look at some of the ladies that you could be booking!
There are very few words you can say about a girl that is so goddamn gorgeous.
A leggy brunette with a figure that will have your trousers bursting at the seams, Cassia loves to flaunt her cute little ass, long legs and pert titties in the naughtiest lingerie.
Imagine seeing those see through panties poking out the bottom of her tartan skirt...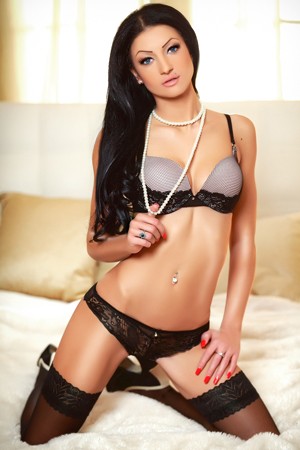 Now if we were still in school Adela would be the kind of girl with ripped knees on her tights, smoking cigarettes behind the bike shed.
The original bad girl, Adela is a school girl roleplay escort that also likes to party!
A really kinky naughty girl, if you're looking for pure raunchy filth - get her dressed in knee high socks!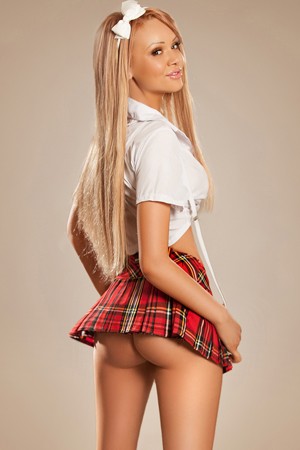 This sexy young blonde lady is the epitome of the school uniform escort!
A petite young blonde a'level escort that loves a guy who knows how to work her ass, she's dirty, naughty nasty but sweet and innocent looking.
Don't be fooled - this little ball of fun will be sure to keep you going all night long. Just look at those buns!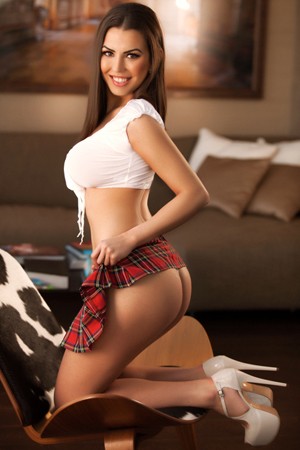 Kenia is one of those girls who would have been at the school disco, pantyless, short skirt, shaking her ass, her hair dripping with sweat.
She loves the attention; knowing that men want her and women want to be her.
Nothing turns heads more than walking down the street in this naughty little outfit, feeling every gusty of wind blowing up her naked thigh...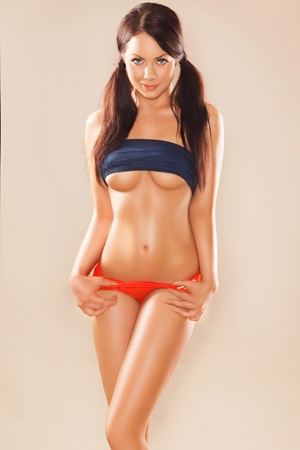 Wearing those pig-tails and that naughty look in her eyes, you know that Anita is going to show you a good time.
She loves nothing more than a man grabbing her pigtails as reins he hits it from the back...
With a tight little body and cute little ass this 21 year old is one of our regular's favourites...
Now we're just spoiling you...
These two beauties come as a pair, and know each other intimately, inside and out.
Both dressed in their tight school girl uniform, you can watch as they strip each other off for you, or keep their uniforms on as they take advantage of you.
If you're looking for an escort threesome, these girls really must not be overlooked!
Booking A School Girl Escort
So how do you go about booking a date with one of our school girl roleplay escorts? Well, it's rather simple really. If you have chosen any of the ladies on this page just give us a call and when you are making your booking make sure to tell whoever answers the phone that you would like your chosen girl to dress up in a school uniform.
Don't worry, with Premier Models UK, there is no taboo and we ensure absolute discretion so don't worry about telling us what you're fantasies are - we've heard them all before (seriously!).
You need to know whether you want them to come to you or to theirs. Out-calls are typically more expensive and you may have to cover the cost of a taxi too. Then it's a matter of keeping your date and living out your fantasy of having a raunchy, steamy session with a young lady in tight plaid skirt, shite blouse and knee high socks.
If you have any specific requests just let us know when you're making your booking and we will be pleased to accommodate you however we can!
TO MAKE A BOOKING CALL US ON 07500 200 600 OR EMAIL US ON INFO@PREMIERMODELSUK.COM